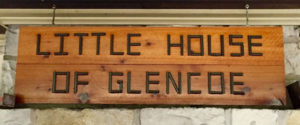 Thank you for your interest in Little House of Glencoe. We have developed a new online system which allows you to view available dates on our calendar, request a reservation and pay for your rental.  You will need to create an account in order to use our system. After you've confirmed that your date and rental period are available, you may make your request via this system. If you have any questions regarding your rental or Little House, please email us at info@littlehouseofglencoe.org .
NON-PROFIT GROUPS: All groups requesting the non-profit rate will be REQUIRED to provide an official document that proves your non-profit status. 
YOU MUST BE 21 YEARS OF AGE OR OLDER TO RENT AT LITTLE HOUSE OF GLENCOE. Proof of age may be requested.  
Rental periods are as follows:
Evening/Overnight – 6pm to 9am
Daytime – 10am to 5pm
Two hour blocks are available ONLY Monday-Thursday 10am-5pm. After 5pm, the rental will be considered an overnight rental. We DO NOT offer partial time slots on weekends.