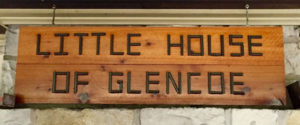 Thank you for your interest in Little House of Glencoe. We have developed an online system which allows you to view available dates on our calendar, request a reservation and pay for your rental.  You will need to create an account in order to use our system. After you've confirmed that your date and rental period are available, you may make your request via this system. If you have any questions regarding your rental or Little House, please email us at info@littlehouseofglencoe.org .
*PAYMENT IS DUE 24-48 HOURS AFTER YOU HAVE RECEIVED YOUR APPROVAL EMAIL WITH PAYMENT LINK! IF PAYMENT IS NOT RECEIVED YOUR RENTAL WILL BE CANCELLED! 
*If you haven't received your approval email, please check you spam folder.  
GROUP SIZES:
Little House group sizes are limited to no more than 30 people. 
PARKING: There is limited parking at Little House. 
*Little House is located in a quiet residential area. Extremely loud noise and loud music is prohibited inside or outside of the house. In addition, any outdoor noise MUST end at 10:30pm.  Our neighbors will call the police if they feel it is necessary. If the police are called, you will lose your deposit.
NO EXCEPTIONS!! 
* Rental rates: 
Not-for-profit rates: $140 Daytime  $200 Evening (Not-for Profit status must be approved prior to making your rental request.)
Regular rates: $300 Daytime  $350 Evening
*Please note that a $100 cleaning fee will be automatically deducted from the renter's deposit. No exceptions!
Rental periods are as follows:
Evening: 6pm-12am 
Daytime: 9am-5pm
If a renter stays past their rental time without prior approval, we will deduct $200 from their deposit. Approval must be requested at the time of your rental request.  Once your rental has been approved, extended rental requests will be denied. 
*Please note: We do not offer partial time slots.

 *GARBAGE DISPOSAL: Little House is located in a forest environment which is shared with wild animals that love garbage! If garbage is not disposed properly in the cans that we have provided, a $125 fee will be deducted from your deposit. 
* Please note: Your rental request is considered an automatic agreement of the above guidelines.